Basic cleanings and deep cleanings are rarely done once or twice a year, where we carefully clean the company's premises from floor to ceiling and give a thorough cleaning to even the most difficult places where dust and dirt have accumulated.
The cleanliness achieved by basic cleaning is maintained by regular maintenance cleaning. In this way, your office or premises always remain clean and presentable.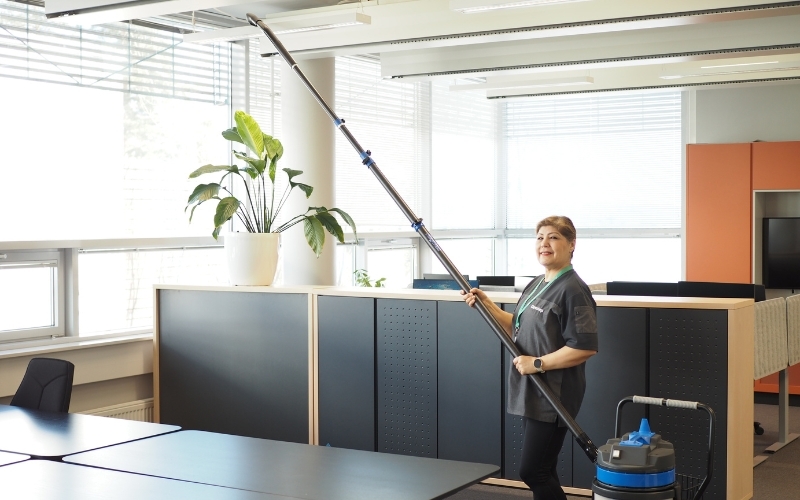 During basic cleaning, all surfaces and equipment are carefully cleaned, including doors and walls, mouldings, surfaces, lighting fixtures, radiators, air vents, glass surfaces, and so on.We always tailor basic cleaning services based on your needs and preferences.
The following actions can be performed during basic cleaning:

Dusting of High Surfaces
Out of sight, out of mind? Not really! Dust, or dust that accumulates on top of high cupboards or ceiling lights, for example, deteriorates indoor air quality. That is why regular cleaning of high surfaces is important.
Basic cleaning and waxing of floors
To keep the floor surfaces in good condition and withstand use for a long time to come, regular basic cleaning of floors is needed. Shiny and clean floors significantly increase the comfort and representation of the rooms. In addition to thorough cleanings, waxing of the floors extends the lifetime of the floor material and makes even a worn-out surface look more presentable.
Full carpets also require proper cleaning regularly so that dirt does not become embedded and wear out the carpet. Effective cleaning machines and professional expertise bring textile mats back to their fresh state, significantly extending their longevity.
Cleaning of wet rooms
Regular basic cleaning in wet rooms prevents mold and bacteria from spreading. We carefully wash and disinfect the surfaces, furniture, and equipment of wet rooms, review and clean the tile sealant, and clean the floor drains. In addition, we remove any possible lime traces.
How much does cleaning cost?
We always tailor our cleaning services based on the customer's needs. For example, the price of cleaning depends on the:
Size of the area to be cleaned
Specific needs and requirements
Contact us and we'll design a service package that suits your needs!
Special cleanings for businesses
We are also here to help you through special situations, whether it is moving cleaning or a special need to disinfect the space.
Moving cleaning
Are you moving to new premises? We take care of the moving cleaning for you. After you have moved, we ensure that the premises are thoroughly cleaned so that the old spaces are left in good condition for the new users.
Disinfectant cleaning
Disinfectant cleaning may be necessary, for example, during flu season to prevent infections from spreading. We thoroughly disinfect all surfaces and doorknobs so that bacteria and viruses are defeated.
Contact us and tell us about your situation, and we'll consider a suitable service for you!