Office cleaning and facility cleaning are customized cleaning services designed for businesses. Ensure the cleanliness and hygiene of your premises with Carestep's professional cleaning services!
A clean, pleasant, and hygienic work environment is an investment in well-being for employees. In a clean facility, employees work more efficiently and safely, and cleanliness and proper hygiene standards promote well-being. Essentially, office cleaning is maintenance cleaning, the purpose of which is to maintain the cleanliness of a facility at a consistently desired, good level.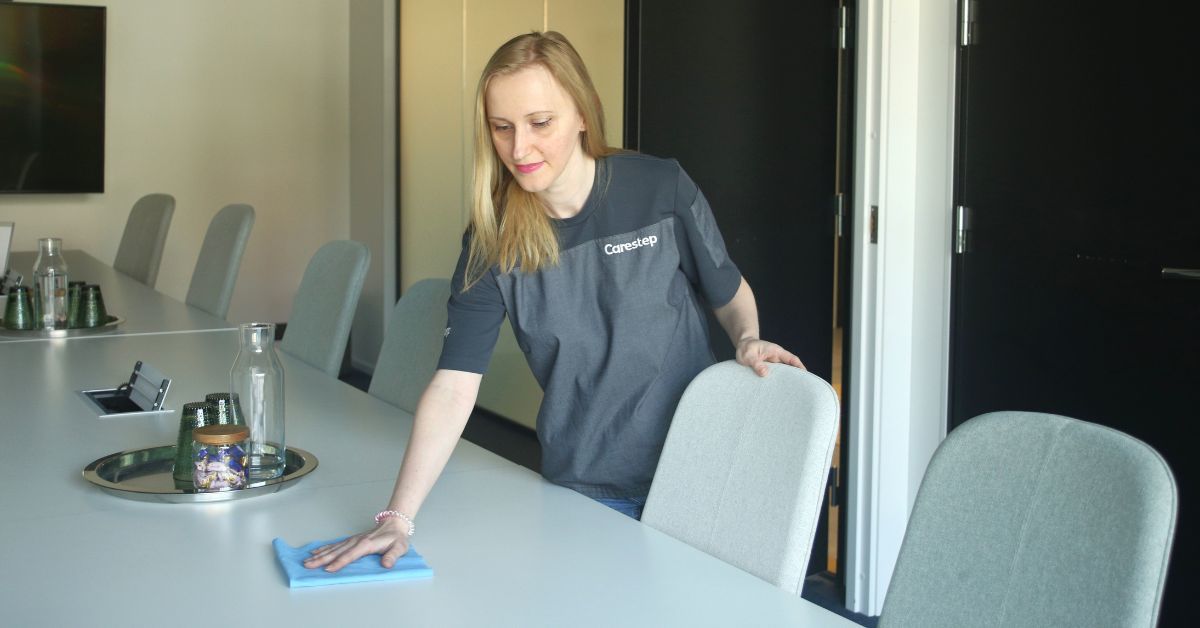 Office cleaning services are primarily sought for their seamless execution and visibly clean results. In addition to this primary goal, cleaning partners are expected to have smooth communication, proactive response to requests and needs, environmentally friendly cleaning products, and responsible operating practices. We are pleased to be able to provide these services. Cleaning needs differ from one organization to another, so we offer our customers the exact service they need.
We assign a cleaner or cleaners and a service manager who maintains contact with the customer. Because of continuous communication, we can respond to changing needs even on a quick schedule and solve any problems that may arise, together with the customer.
Office cleaning
Office cleaning is the regular cleaning of an office space, which includes tasks such as emptying waste baskets, dusting surfaces, cleaning surfaces, mopping or vacuuming the floor, cleaning kitchen spaces, sanitizing toilets, and replenishing hygiene supplies. Office cleaning can be performed, for instance, once a week for smaller office spaces with all cleaning tasks done at one time. For larger offices with many employees, cleaning can be done several times a week, with different emphasis. The type of office cleaning package we recommend depends entirely on the size of your office, its usage rate, and other needs.
Office cleaning is an essential part of maintaining hygiene in the workplace and helps to ensure a pleasant working environment. Office cleaning is our area of expertise, and we are a well-equipped cleaning partner. The comfort of your office and personnel is in good hands with our competent and trustworthy cleaners.
Facility cleaning
Facility cleaning is the regular cleaning of facilities carried out by an expert cleaner according to needs. Facility cleaning maintains the cleanliness and hygiene of facilities for the benefit of their users, and it improves the suitability of the facilities for the purpose for which they were intended. The objectives and operating methods of facility cleaning may be largely the same as those of office cleaning, but always taking into account the special features of the facility type. Our facility cleaning customers include, for example, restaurants, retail stores, warehouses, and fitness clubs.
Corporate cleaning
Corporate cleaning aims to maintain cleanliness and hygiene in a company's premises. High-quality corporate cleaning is carried out by our experienced cleaning professionals. Corporate cleaning is a regular cleaning service for both companies and organizations.
How much does facility cleaning cost?
We always price office or other corporate cleaning on a customer-specific basis. Cleaning prices depend, for example, on:

The size of the space to be cleaned
Cleaning cycle: how often to clean and what are the special needs and requirements
Special wishes of the customer
✉ Leave us a contact request, and we will send you a tailored offer for your needs!
Our corporate customers trust us
We have dozens of satisfied corporate customers, for whom we take care of the cleanliness of premises. We are delighted to work with organizations that share our values and are involved in supporting our mission and our employees' development paths. Taking care of the cleanliness of offices and other facilities and thus supporting the well-being of our client companies is our pleasure.
Read testimonials from our customers on our reference page →