Maintenance cleaning is carried out on a specific cleaning cycle. It ensures the cleanliness and hygiene level of the spaces that are being maintained. Maintenance cleaning aims to keep the space clean according to the customer's needs. Depending on the location, this may mean everything from the daily presence of a cleaner to selected weekly cleaning sessions. The keywords within maintenance cleaning are regularity and continuity.

Well-executed maintenance cleaning ensures the premises remain clean until the next cleaning session. Regular cleaning not only keeps the comfort level high for those using the space regularly but also helps to extend the life of furniture and surface materials by keeping them in good and usable condition for longer.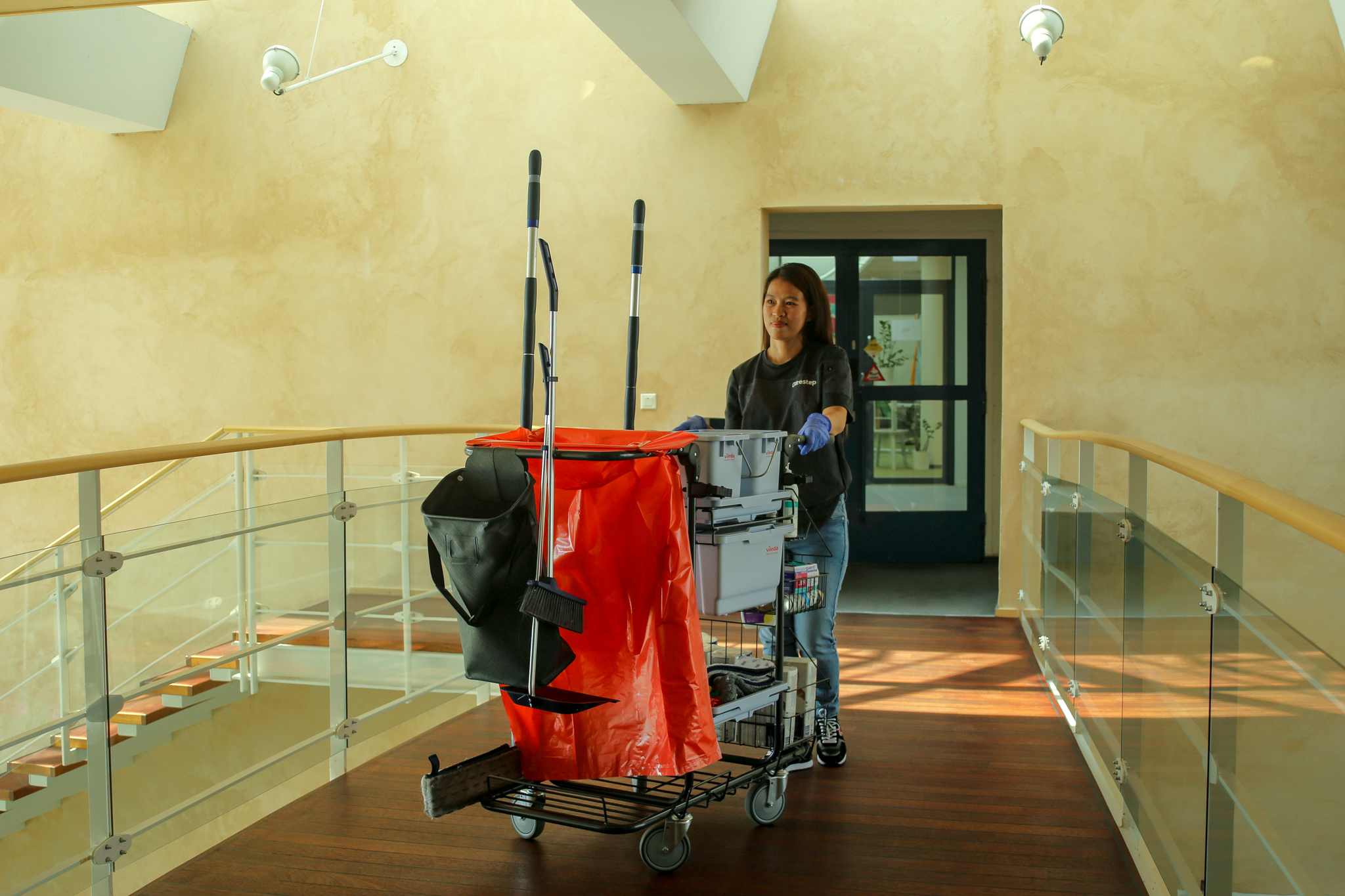 What does maintenance cleaning include?
Maintenance cleaning aims to maintain a pre-agreed level of cleanliness. The starting point is to plan the maintenance cleaning together with the customer. Customer's cleaning needs and wishes provide the basis for continuous cleaning and maintaining the cleanliness.
Depending on the location, it may not be necessary to clean everything every time. On a general level, maintenance cleaning in spaces such as offices includes emptying trash cans and waste containers, wiping surfaces to remove dust, cleaning various levels and touch surfaces, mopping and/or vacuuming the floor, cleaning kitchen spaces, sanitizing toilets, and replenishing hygiene supplies.
Maintenance cleaning means cleaning on a pre-agreed regular schedule, for example, daily or weekly. How often maintenance cleaning is performed is determined according to your needs.
Benefits of maintenance cleaning
Maintenance cleaning ensures that the agreed level of cleanliness and functionality of the space is maintained between cleaning sessions. In maintenance cleaning, as with other cleaning services, the space itself, the customer's wishes, and the desired level of cleanliness determine the entirety of the cleaning service.
Regular maintenance cleaning prevents dirt and grime from building up. Cleaned surfaces do not get as dirty as less frequently cleaned surfaces since they are more resistant to dirt. It also reduces the accumulation of dust, which improves the air quality of the space.
Store cleaning and maintenance cleaning of other facilities
Maintenance cleaning can be used to maintain the cleanliness of any facility, whether it be a restaurant, gym, shop, office space, café or store. You can read more about office cleaning here.
Store cleaning is one aspect of maintenance cleaning. Store cleaning is all about implementing maintenance cleaning that takes into account the special cleanliness needs of a space used by a busy, constantly-changing stream of people. A facility and store space may also require expertise related to food safety.
Customer comfort is also an important aspect here. The purpose of a store is to sell, and people generally don't feel comfortable in spaces that are not clean. The goal of store cleaning should be to support the purpose of the store or facility by using proper cleaning and sanitation, as well as creating a comfortable and inviting environment for the customers.